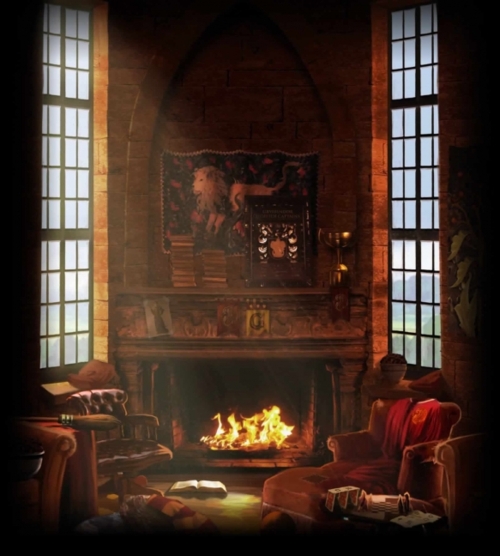 Thanks to another book blogger (melanie loves fiction) I found out about Bionic Book Worm and her Top 5 prompts. This February she's doing a month-long Top 5 prompt theme, featuring Harry Potter. For every week of the month, a different Hogwarts House will be the prompt, starting with:
Gryffindor!
Since I'm one of the biggest HP book nerds out there, and love the fandom, I felt I needed to participate in this (and also because I'm doing a HP-themed year-long book challenge already, where I have to read books representing House themes and books recommended by House members, this is already on my radar).
Growing up, reading the Harry Potter books, who didn't want to be in Gryffindor, the Chosen One's own house? The house of Hermione Granger, Albus Dumbledore, Minerva Freaking McGonagall??? I mean, if you don't admit to it, that's fine (but we all know you did want to be a Gryffindor at least at one time).
But since Pottermore and the growth of the fandom, being an "official" member of any of the houses of Hogwarts is an honor, a source of pride, and brings great joy. So even though I first strongly desired to be a Gryffindor, I have come to embrace my Ravenclaw house (besides, I'm most likely a Ravendor anyway!)
Gryffindor Traits
To quote the Sorting Hat: "You might belong to Gryffindor,/ Where dwell the brave at heart,/ their daring nerve and chivalry/ Set Gryffindors apart," (Harry Potter and the Sorcerer's Stone).
Gryffindors have courage, bravery, determination, but can also be short-tempered and those of other houses might consider Gryffindors self-righteous and arrogant, or reckless rule-breakers.
Gryffindor is said to correspond to the fire element, and accordingly the house colors are scarlet and gold. The lion is the house's animal.
So, based on these traits, here are my recommendations of books for Gryffindors:
The Hunger Games is almost a no-brianer for me. When I think of a stubborn, brave, determined main character, Katniss is the first person that comes to mind. But I feel even Peeta would be sorted into Gryffindor House. He's a bit of a Neville Longbottom – shy and unsure at first, but soon bursts out of his shell and becomes a truly noble, heroic figure, in my opinion.
Plus, this book is full of action and endless opportunities for nerves to be tested, for characters to be daring.
E.L. Konigsburg was one of my favorite writers growing up. All of her books are filled with adventurous, brave kids who really shine under adversity. Claudia Kincaid is a perfect example.
Not only is running away from home brave – and a bit reckless!, but she does so with her younger brother, and they don't run away to just any place – they run away to the Metropolitan Museum of Art in New York! Looking back on this book now, Hermione reminds me a lot of Claudia. She's resourceful and whip-smart, and not afraid to take on a challenge. In her quest to solve the mystery of the creator of an angel statue at the Met, Claudia displays just how clever she is, using problem-solving skills and her own resourcefulness to get to the bottom of things.
Garth Nix's "Abhorsen" series is high fantasy and it's brilliant. The world is full of demons and spirits and a family whose sole job is to keep dead where they belong. As part of this family, Sabriel is thrust into the job of necromancer when her father goes missing and she sets out on a quest to find him.
Sabriel is such a bad-ass. She's strong, she's determined, and she has a deep respect for magic and her place as the new Abhorsen. This book is definitely for Gryffindors. There's action and adventure, and Sabriel demonstrates bravery and courage in her quest to save her father, facing magic she's never dealt with before. It's truly a great series and I highly recommend it, whether you're a Gryffindor or not.
Yes – another high fantasy! But honestly, Patricia C. Wrede's "Enchanted Forest Chronicles" are some of the best fantasy writing out there and Princess Cimorene is the most Gryffindorian of Gryffindors. She is resourceful like Hermione, brave like Harry, and loyal like Ron. Most of all, her determination to be the master of her own destiny is enough to put her at the top of any "Greatest Heroines of all Time" list.
This book is full of chivalrous knights, brave princesses, and fiery dragons. I think it fits the mold beautifully and if you love fantasy at all and you haven't read this? It's time to get on it!
Time for some aliens! I knew I'd find a way to work some sci-fi into this list. Rick Yancey's "5th Wave" trilogy is a really powerful, deeply engrossing look at the human race under pressure. When faced with a race of aliens that are smarter, have better technology, and are extremely good killers, how can humanity survive?
Cassie is definitely a Gryffindor. Not only is she brave, but her determination to save her brother, to keep her family together is truly awe-inspiring. Forced into a life where she must think quickly on her feet and fight for survival, Cassie beats the odds. She is incredibly human and, therefore, fragile, but she displays such strength and fierceness that she proves she's a force to be reckoned with. She's one of the best characters I've ever read.
Honestly, all I can say is read this for Cassie. She's worth it.
Thoughts?
So now you've seen the list. What do you think? If you've read any of the books on this list, do you agree?
If your a Gryffindor, have I convinced you to pick any of these books up? If you're not a Gryffindor, are you still thinking about giving these books a read?
What Gryffindor books would you recommend?
Let me know what you think down below!