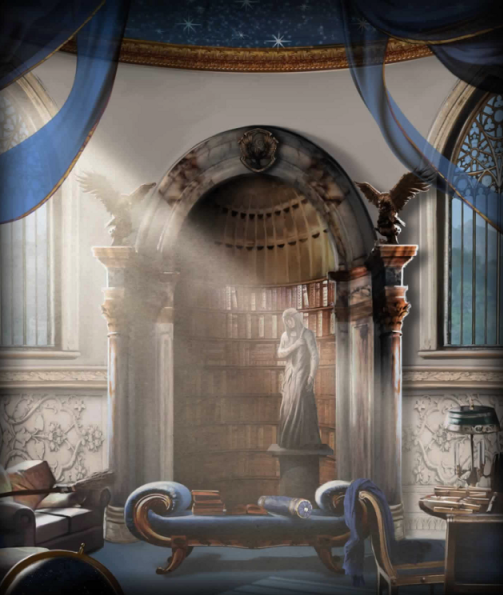 In case you missed my first post in this vein, this is a continuation of the Top 5 prompt theme from Shanah @ the Bionic Book Worm for the month of February. Every Tuesday throughout the month will be book recommendations for Harry Potter Hogwarts houses.
The first week was Gryffindor. This week, it's MY house:
–> RAVENCLAW!!! <–
I couldn't be more excited because I love to throw a spotlight on this house! I have fully embraced my Ravenclaw self (if you read my previous post in this prompt series, you'll know I used to want to be a Gryffindor (like super bad!)) and I cannot wait to share with you my book recommendations for my fellow Ravenclaws.
Ravenclaw Traits
As the sorting hat says, you could be in "wise old Ravenclaw,/ If you've a ready mind,/ Where those of wit and learning,/ Will always find their kind," (Harry Potter and the Sorcerer's Stone).
Above all, Ravenclaws value wit, learning, and wisdom. "Wit" is even etched onto Rowena Ravenclaw's diadem: "wit beyond measure is man's greatest treasure."
Ravenclaw corresponds to the air element, which is fitting, as the house animal is the eagle, and its colors, blue and bronze, symbolize the sky and eagle feathers.
Because Ravenclaws value wisdom, we're avid learners and intellect is highly prized and the students of Ravenclaw house are generally talented in their schoolwork. Ravenclaws take pride in being original, especially in practicing magic. They are hardworking, diligent, and love to satisfy their natural curiosity, even at the cost of other social expectations. Ravenclaws also love learning about the world around them, mostly due to their natural curiosity.
Now, let's get to the book recs!
This is one of those books that draw a lot of ire because of the insta-love that happens in it, but it certainly didn't bother me because this is one of my favorite books. And the "insta" part was one-sided, anyway, and many people fall in love quickly and I'm not ruling this book out for such a small reason.
The reason why I've picked this as one of my recommendations is because of the huge focus on exploration and curiosity. Both Samuel and Rachel are archaeologists and the children of archaeologists, and both are searching for the largest dinosaur skeleton ever to be discovered. The book is filled with scientific inquiry and a deep love of learning (both characters want to go to college, even Rachel who, as a girl living in the 1800s, would normally be barred from entering one).
I love both characters and I think they both would easily be Ravenclaws. Rachel is infinitely logical, curious, intelligent, and independent, while Samuel shares in intelligence and curiosity, though he is a bit more witty and creative. Their relationship is fascinating and beautiful and they both learn so much from each other and inspire each other. This book, its story, and its characters, is excellent and I highly recommend it.
For any curious Ravenclaw wanting to know more about the world they live in, this is an excellent place to start. I love Ryan North – he's a Ravenclaw if I ever saw one – his writing is full of quick wit and humor.
This book is set around the framework of a future where time travel is possible and this book is the safety guide in the case of a broken time machine that leaves the traveler stuck in time. It provides detailed accounts for everything one needs to re-invent civilization, catered to whatever time period you might be stuck in.
This is a genius book and it makes learning ridiculously entertaining. You might think that such a premise would end up reading like a textbook, but this is not the case! Honestly, even if you pick it up to peruse it, you'll be enchanted by the comical asides and the accessible writing style that often chides humanity for taking so long to invent even the most basic things. It's a hoot.
I know I've recommended this book before, but any time I see an opportunity to, I always bring it up again. This book is hysterical and you wouldn't think so since it appears at first to be a science fiction book about being stuck on Mars (which on the outset is rather more dramatic than comedic, but just wait!).
Nevertheless, Mark Watney is a clever, clever man and any Ravenclaw would be fascinated by his tale of survival on an alien planet, where he must rely on his knowledge of plants and engineering to stay alive until he can be (maybe) rescued.
I chose this book because I think Mark is an excellent example of a Ravenclaw due to his intelligence and his wit, but the book itself, I find, would also satisfy a Ravenclaw's desire to learn. Even though it's a work of fiction, Weir provides solid science and the book is grounded in clear knowledge of space travel, botany, and engineering, albeit with a bit more drama for effect. If you haven't read it, please do – it's such a fun read.
I know I've put two non-fiction books on this list, but I don't care because if Ravenclaws are interested in the world around them, then non-fiction is the perfect place to go. I don't love every non-fiction book I come across, but this one truly stands out.
This memoir, about a woman who loses herself for a month due to a rare illness, is both heartbreaking and deeply moving. The dedication of her family and the doctor who helps her is really inspiring, and I was engrossed in this woman's story from the very first page.
This book was clearly inspiring enough for a feature film to be made of it. Though I haven't seen the film, I greatly urge you to read the book, because Cahalan's writing very good and the way she reveals her story bit by bit will keep you on the edge of your seat.
So I'm going to cheat a little and suggest an extra book – but only because both books share similar qualities, except that Trouble is realistic/mystery YA fiction and Jackaby is historical/fantasy YA fiction.
When I first thought of books for this list, I knew I needed to include Trouble is a Friend of Mine if only because I love the book dearly and I know it belongs on one of these lists. But honestly, I think Zoe is a Ravenclaw for reals. She's academically driven (she wants to get into the best schools), she's whip-smart, and she's naturally curious.
I love the chemistry between Zoe and Digby, the lovable spy/goof. This book is a mystery but it's injected with comical twists and witty banter. I LOVE it and you will too, I promise. Tromly's writing is fantastic and so clever. She's one of my favorite YA authors.
I'm including Jacaby as a pairing with Trouble because they share such similar characteristics. Apart from them being different genres, Jackaby is just like Digby, only he's a detective who investigates supernatural happenings. Though Jackaby is a historic-drama, it still has a bit of humor and the dynamic between Jackaby and Abigail is similar to that of Digby and Zoe (just without the romance). Both are mystery books that invite the reader to put their investigative mind to work, which I think lends itself to Ravenclaws.
So whether you like contemporary mystery or supernatural mystery, or both, you're covered here!
Please check out Shanah @ the Bionic Bookworm's post here for even more Ravenclaw Recommendations!
Thoughts?
Now that you've seen my recommendations, please let me know what you think in the comments below! Whether you've read any of these or are curious about doing so now, I'd love to hear from you!
Are you a fellow Ravenclaw? If so, do you agree with this list? What books would you pick? If you're not a Ravenclaw, have I convinced you to pick up any of the books on the list?
What Ravenclaw books would you recommend?
Thanks for reading!