Can You Ever Forgive Me? by Lee Israel
The recollections of a literary forger.
Can You Ever Forgive Me? by Lee Israel is a memoir of her time before, during, and after she became a literary forger to make an income. Israel is a New York Times best selling author and biographer. Her memoir has been made into a movie, which has been nominated for numerous awards.
Synopsis:
Lee's memoir is a collection of her thoughts and reflections on her time as a writer and then, when the money runs out and she is unable to secure book deals, as a literary forger, using her researching skills and her abilities as a writer to type letters in the voice of numerous famous writers, including Dorothy Parker and Noël Coward. She includes details of her methods of forgery, her eventual partnering with another friend/criminal to steal legitimate letters and replace them with duplicates in order to sell for money, and, finally, being found out by collectors and the police.
Book Review:
Content: 4/5
Lee's writing style is very high prose and dry wit. She includes some of the letters she forged as examples, and talks about how she formed these letters, using bits and pieces of real material from other existing letters and accounts from biographies about the people she impersonated. The humorous thing is that she became so good at mimicking these people because she was, previously, a legitimate biographer, having written a couple of books herself. Her research abilities being strong, she was able to cobble together letters that would come across as very real. Coupling this with her method for forging a signature (which involved using a tube tv as a light box), she was able to pass of dozens of letters to actual collectors and make decent money. All of her troubles stemmed from her luxurious lifestyle she acquired from having money as a writer. When she began overspending, and was unable to recover or land significant book deals, she resorted to crime to keep her apartment and pay her cat's medical bills.
The book is very funny and light for being about crime. Israel tells her story unashamedly and boldfaced and leaves nothing out about her thoughts of the time, her reasons for committing her crimes, or her guilt about breaking the law. It's a very quick, fun read and I found myself fascinated by Israel's descent into crime and her luck at remaining jail-free.
Literary Value: 4/5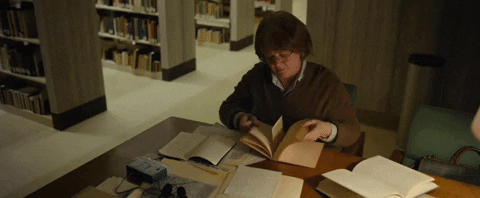 From her writing, I can tell that Israel is a very well read, smart woman. I was constantly looking up words she used and her letters themselves prove what a good study she is of human character and traits. She was able to mimic the voices of the people she was writing for so well that some of her letters even made it into actual anthologies. She also has no qualms about sharing that she knows she's good, but it's completely acceptable because she's so honest about everything and her writing really backs it up.
Entertainment Factor: 3/5
I found this book to be very entertaining. I really enjoyed Israel's sarcastic, dry wit. She can be very scathing of others, but is also very real about herself, and it's the kind of humor that I think many people enjoy. I really like how honest she is about her experience of breaking the law, and especially her view of the justice system and her lack of incarceration. Though the book is short, I feel it delivers what it is advertising.
Israel certainly has a high vocabulary – I often found myself having to look up words, which I felt wasn't her attempt at showing off how smart she is, I think she just talks that way. The book felt very much like she was speaking to me personally. So, even though having to look up words took me a bit out of the experience, overall I didn't mind it.
Cover Art Rating: 2/5
The cover is very minimalist. It looks very much like a manuscript, which I think is a nod to Israel's book writing as well as her extensive use of typewriters when writing up her forgery letters. While this matches with the theme of the book, visually, there's not much to look at and it doesn't draw you in at all. I'm only giving it a low rating because while it doesn't completely suck, it's not the best cover in the world.
---
Overall Rating: 3.25/5
I was fascinated by this book. The idea of forging letters by real people seemed completely alien to me (how does one not only mimic the voice of someone, but also create plausible content that could be verified by those who know of the life of that person?). It goes to show that Israel has a real talent for writing – just not her own stuff! While I understand why she chose to do what she did, she also created quite a ripple. This book is a very unapologetic admission to what she did, but it's also hilarious. The fact that she serves no time for her crime is quite interesting and says something about our justice system.
If you like true crime stories, this is one of the more light-hearted ones. Israel's story is full of sarcasm, dry wit, and lots and lots of literary references. I would definitely recommend this book. It's short and sweet, the crime is non-violent, and it's just an interesting story (and go see the movie! It's a great portrayal of this, even with the changes made to make it more Hollywood).
Open discussion below!
Let me know what you think! If you've read Can You Ever Forgive Me? or if you've seen the movie! I'd love to hear your thoughts on this. Perhaps I've swayed you to try out a true-crime story?
Thank you for your time – I hope you're enjoying the book you're reading currently!