Romanov by Nadine Brandes
An historical fiction account of the last days of the Romanov family.
Romanov by Nadine Brandes is the story of Anastasia, Nastya, Romanov and her family as they are exiled to Siberia to await their fate at the hands of the Bolsheviks. The book weaves together fact and fiction, with a dash of magic.
Synopsis: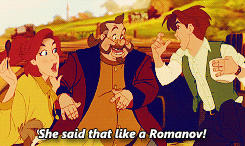 Anastasia, Nastya, Romanov is living with her exiled family in Tobolsk, until they get the word that her father must be moved to a new location in Siberia: Ekaterinberg. With her mother and elder sister Maria going with them, Anastasia is worried her family is being split up for good. Still, she has her brother, Alexei, to look out for, since he's bedridden and suffering from hemophilia and her father leaves her with a special Matryoshka doll that holds a spell that could save them all. When they finally get the order to follow their parents to Ekaterinberg, Nastya is hopeful for her family's future – until she gets there.
The house is like a prison and as her family waits out the days, wonder when the Bolsheviks will decide what to do with them, Nasya does her best to look out for them. As she slowly befriends one of the Bolshevik guards, Nastya feels that the future might not be so bad, but things become dire as Alexi's health begins to weaken and a new Bolshevik Commandant arrives. Will Nastya be able to protect her family and keep the Matrioshka doll safe?
Book Review:
I received a complimentary copy of this book from Thomas Nelson through NetGalley in exchange for an honest review. Opinions expressed in this review are completely my own.
Content: 4/5
I was quite pleased by this book. The story of Anastasia is well known, and there are many, many versions out there, in many genres. This take on it felt really fresh to me. It follows a more accurate historical chronicle of Anastasia and her family in the last months of their (spoiler alert) lives. There is some magic at play in this story, and it is used as a tool in a way that I've not seen done before, especially in regards to this story, and I enjoyed it immensely!
The historical part of this book is pretty cool. Brandes does a good job of following real-life events for the Romanov family, including their exiling from Tobolsk to Ekaterinberg, even Maria's small flirtation with Ivan, one of the Bolshevik guards. I thought the story was compelling and the magical spin on it enhanced the natural mystery and intrigue surrounding their story.
There is a romance element to the book, which I thought was quite nice. I didn't feel it was overly dramatic, or that it was misplaced in a story otherwise dominated by a strong, empowered female character. Though Nastya is confident and sure of herself, her interest in Tash does not detract from her main goal of protecting her family. It's a solid love story and I think it only adds to the story's tension and high stakes.
Literary Value: 4/5
This is a solidly written YA book. I didn't find any flaws in the writing and I felt like the story was told in a way that was straightforward and interesting. Despite the attention paid to historical facts, the story did not drag or cause me to lose interest. In fact, I think Brandes did a good job of keeping it balanced with her own additions to the story.
I did find moments in the book where things were told rather than shown, but otherwise, that part of the writing did not bother me much. The action sequences, the dialogue, and the plot itself were well devised and flowed pretty naturally, so I read the book without feeling disrupted.
Entertainment Factor: 4/5
I really enjoyed this book. Though I have minor interest in the Romanov story, this book really gripped me and I found myself turning page after page to find out what would happen next. I loved Nastya and Tash, Alexei and Ivan, and it was just a really fascinating magical-historical fiction read.
I particularly enjoyed the romance aspect of this book. I found it to be a nice addition and it didn't detract or diminish Nastya's story in any way, which was really nice to see.
Despite there being really sad elements (which bum me out and make it hard for me to like the book), I didn't find myself losing hope or being overwhelmed by them. I was able to fully enjoy the story despite it and that, I think is a good thing!
Cover Art Rating: 4/5
I really was drawn to this cover. It's got lots of bold elements with the gold and rend on black. The name really stands out like a statement peace, which I think parallels nicely with the book, for there are many moments in the story where Nastya refers to the Romanov name. Even though there's a figure on the cover, it's a small one and with no distinguishing features, which means this cover passes my "no faces on the cover" test.
Overall, I just love the flourished design and it looks very fancy. I love the little Russian palace included, as well, because it really gives you a sense of the book's subject matter. It's just a really eye-catching, appealing cover.
Overall Rating: 4/5 Matryoshka Dolls
This was a really solid historical-fiction book for me. There was a little magic, which was used in a way that I had not seen before, which I loved, and there was a little romance, which wasn't unnecessary or poorly written, there was action and life-or-death stakes. It was just a really enjoyable read. I don't really have anything negative to say about it.
I can say for sure that this version of Anastasia is probably one of my favorites now. I loved how strong and confident Nastya was and how she protected her family. She was bold, mischievous, and full of heart. She really made the book for me.
If you're a fan of the Romanov story or historical fiction, this book is a must-read.
Thoughts?
Let me know in the comments if you're interested in reading this story or if you have read it! I love hearing from you, especially if you have strong opinions!
Did you love this story? Hate it? Are you a history buff? A big fan of the Romanovs?
Do you think Anastasia survived? Let me know down below!