Top 5 Saturdays is a series brought about by Mandy @ Devouring Books. If you want to see the schedule of Top 5 Saturday prompts, check out the link for Mandy!
I've decided for these Top 5 Saturdays, I will be looking exclusively at books I want to read, but haven't yet. It'll keep things interesting.
That being said, this Saturday, I'm breaking with tradition and choosing books I've read. Why? Because I have too many books with maps that I know and love not to! I was super excited about this prompt and I'm really excited to share my list with you! I hope you like it!
Let's get to it!
Books I've Read…
I would be remiss if I didn't include Lord of the Rings in a book list about maps. I mean, really! It's the ultimate fantasy map. Even people who haven't read the books or seen the movies know about Middle Earth and have probably heard of Mordor, the Shire, etc. Plus, Tolkien is the master of world-building, this is his masterpiece, and if you don't include him…well, we can have words (constructive words!)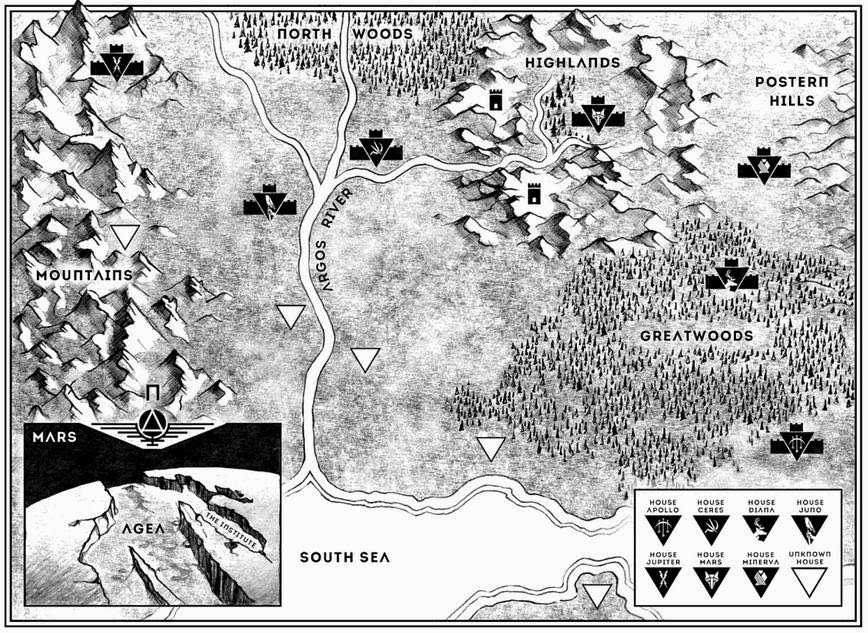 It's funny, but this was the second book I thought of, when I thought about books with maps. I read it just a year ago and I really enjoyed it! And the map was super helpful, because the "competition" stage of the book really relied on you having a sense of how these characters were moving about. It's a decent map.
I debated about which map to include with this one. There is a general map of the Grishaverse, there's the map of the Ice Court, which is an important element to the plot of this book, and there's this one of Ketterdam, which is the main city where most of the characters in this book operate from. I chose this one because I like it the best and I think it's more integral to the story. It's a heckin good map!
This one is a little like the map for Red Rising, in that it involves an area where the characters are "competing," – in this case for survival. This book has been compared to The Hunger Games, though it was published first. I would say it was probably a huge influence for Suzanne Collins. I definitely wanted to include this map because it is so, so helpful to have on hand while reading the book. I'll just say that it's very integral to the story, thus it must be on this list.
Last but not least! My old, old copy of The Princess Bride came with a little fold out of this map. Isn't it cool! I love this story and I love this map because it's very reminiscent of a pirate treasure map, don't you think? It's got cool little details and it's very textural, which I like. It's not necessary to have for the story, but any excuse to bring up The Princess Bride is good for me!
Thoughts & Thanks
Thank you so much for reading this post! If you like this, check out some of my other content! Let's chat in the comments!