Hello again! It's Tuesday, and of course that means it's time for a Top 5 post. Top 5 Tuesdays and their topics are brought to you by Shanah @ the Bionic Bookworm. Check out her blog, she's awesome, and this page for the list of topics for November!
This is a really interesting topic! Usually we think of books that we need to read, not authors. I like this idea, since I know there are many books I have on my TBR that are written by authors that I know I want to get acquainted with. They are the reason their book is on my TBR.
It's so funny, since I work as a youth librarian, I often deal with kids asking me to help them find a book and they almost never know the name of the author that wrote the book. I feel like it's one of those things where books sometimes get remembered over their authors. I'm looking forward to sharing some authors that have caught my attention with you guys today!
1. Elizabeth Gaskell
Gaskell is one of the few writers whose work I have seen adaptations of but have never read the work itself. She's written such works as North and South and Cranford. I've actually bought some of her work, but I haven't made time to read it yet. How crazy is that!? But I'm definitely going to. She's one of those writers of classic literature that had a real impact on literature as a whole, but I don't think she gets quite the recognition as, say, Jane Austen.
---
2. Ruth Ware
I've been meaning to read Ware's work for a while now! I even bought a copy of In a Dark, Dark Wood with the sole intention of reading it immediately. And guess what happened!
Yep, still haven't read it. I remember when The Death of Mrs. Westaway came out and I saw it everywhere! Everyone was talking about it. I love mystery/thrillers! Why haven't I read her stuff yet!
---
3. Ted Chiang
I've wanted to read Chiang's work ever since I saw the movie, "The Arrival" and learned that it was based on a short story of his. I promptly went out and bought a copy of the collection it was taken from, Stories of Your Life and Others and I still haven't read it!
I'm sensing a pattern here…Perhaps this list will just be authors whose work I have bought but haven't read yet…
---
4. V.E. Schwab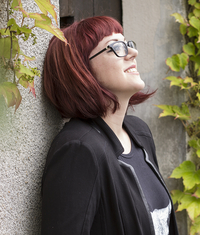 It should come as no surprise that I have Schwab on this list. Only a week or so ago I was talking about how I needed to read Vicious! But it's true. I've wanted to read Schwab's work for a while now. She's quite prolific! I see her work everywhere! I know many people who have read her stuff and love it! I need to join this fandom soon! And yes, I do own a copy of Vicious. Who am I kidding? I've got a theme going here!
---
5. Marie Lu
I am honestly amazed I've gotten this far in life and I haven't read any of Lu's work! She's written several series now, very successful at that, and I come across it almost daily at my library. Plus, she writes in a genre that I love, Sci-fi/fantasy! There are a million reasons for me to have read some of her stuff by now and yet I haven't. I'm making a promise right here and now to read something of hers in the next year. Actually, I'll promise that for all the authors listed here! I'm totally serious.
Thoughts & Thanks!
What do you think of my selections? Did any of your favorites make it on this list? Thank you for reading this post. Let's chat in the comments! And, as always, happy reading!