Wow, wow, wow, I cannot believe that the year is already half over! Why do I feel like it's only just started and also that it has been going on forever??? Maybe because of all the crazy things that have happened in 2020 so far and it's only been the first half of the year, like the massive fires in Australia, the Corona Virus pandemic, and the massive racial injustice protests going on not just in America but around the world! That's a lot to happen in just six months!
Anyway, this is my second year of blogging and thus my second year of doing this tag, a tradition I hope to keep up as long as I do this blog. I'm looking forward to this tag and excited to share all of my loves and discoveries in 2020 so far.
So, here we go!
Best Book You've Read So Far in 2020
This year so far hasn't had any stand outs, but I have read several very enjoyable books, A Castle in the Clouds being one of them! This mystery/romance YA novel was a wintery treat! I love Sophie and her spunkiness. She is such a fun narrator. This book also had a really strong cast of characters and I'm really fond of them. I'll probably end up buying this book.
---
Best Sequel You've Read So Far in 2020
I loved Insignificant Events in the Life of a Cactus and was very much looking forward to reading this sequel and it did not disappoint! I loved seeing Aven's new experiences going to high school and dealing with a whole host of relatable problems that come along with it. The new characters were interesting and added to the story and I liked that Aven continued to show the ways that disabled kids struggle. It feels like a very real portrayal and one that I'm glad to see in middle-grade fiction.
---
A New Release You Haven't Read Yet But Want To
This book was published April 21st, 2020 and I am definitely excited to read it. I love reading anything and everything to do with Korea. This book is a contemporary fiction novel about four women struggling the difficulties of impossible beauty standards, the patriarchy, manic K-pop fans and more. I can't tell you how much I want to get my hands on this book!
---
Most Anticipated Release For the Second Half of the Year
This book will be published November 10th 2020 and I am very fortunate to have received and ARC of this book. I haven't cracked it open yet, but I am terribly excited to read it. I loved The Guinevere Deception and was pleasantly surprised to find this was going to be a series. And now, only a year later, the sequel is coming out. I hope to enjoy it just as much as the first!
---
Biggest Disappointment
This book was unbelievably disappointing. I was expecting a decently written mystery/thriller, one that was clearly good enough to have been adapted into a film. Sadly, this book was just no fun to read. The "mystery" was so transparent and the characters were all so insufferable! I really didn't care what happened, and yet the ending was even more unsatisfactory because there was no justice! I really don't like it when there is no justice by the end of a mystery novel. I definitely don't recommend this one.
---
Biggest Surprise
I was not expecting to love this book as much as I did! As I said earlier, I love reading anything to do with Korea and this book is a contemporary fiction about a woman struggling under the weight of gender inequality. I love how the author included cold, hard facts about the difficulties of being a working woman in South Korea, and of many gender stereotypes that hold women back or pit them against one another. It's such a great read and it's short, so it's something you can pick up and finish in a day.
---
Favorite New-to-You or Debut Author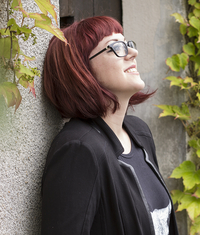 I've finally, finally read a Schwab book! I see her books recommended all the time in the book blogging world and it's taken me so long to finally read something by her. I read Vicious and it was so good! I quickly bought the second and look forward to reading it this year. She's so talented and I can't wait to read more from her. I'll probably try her Darker Shade of Magic series next.
---
New Fictional Crush
Boy, I was not expecting to enjoy Ninth House as much as I did and part of that reason is because of Alex "Galaxy" Stern and Darlington. These two characters were so amazingly written and I definitely developed a crush on Darlington and was getting major favorite ship vibes from him and Alex. I really hope to see more of him in the next installment of this series and I hope, sincerely, that Bardugo does not let me down like she tends to do as a series progresses.
---
New Favorite Character
Victor Vale is such an interesting character! He's "villainous" and yet he's presented as the protagonist. He's definitely a very grey character, semi-psychopathic, and yet very compelling. You want to root for him, and yet he does some pretty horrible stuff! One of the things I enjoyed most about Vicious was Victor's trajectory and how he reacted to things. I found him to be a very cool character.
---
Book that Made You Cry
This is such a quiet, yet powerful novel about the love one holds for a pet, in this case a cat. The book is partly told from the perspective of the cat. The story centers on Satoru's need to find a new home for his cat. He visits many friends and the past is recollected. This story was so touching and I couldn't help but cry when it came to the crux of the plot. It's a short, but beautiful novel and I recommend it highly.
---
Book that Made You Happy
I love the Trouble series, and this third installment was just as good as its predecessors. I'm sad to see the end of this series, but I loved reading this book so much. The humor, the characters, the action-pact thrills of the story – Tromly has written another brilliant book. I love how zany this book and series is and it just makes me so happy. I'll definitely be re-reading this one.
---
Favorite Book-to-Film Adaptation
You know, I haven't actually read P.S. I Still Love You, but they did such a good job adapting the first book that I'm sure this movie follows in the same way. I didn't really care for To All the Boys I've Loved Before, but I absolutely love the movie, and I loved this one. It was so cute and fun.
---
Favorite Post You've Published This Year
I have so many posts that I could choose from for this one, but I think I can say that I really love my The Bookish Academy Awards Tag and my Top 5 Anticipated Books of 2020 post. They were both a lot of fun to write!
---
Most Beautiful Book You've Bought/Received This Year
I bought this book for myself because my old copy was falling apart and this is one of my favorite books of all time. I love the story and I love the writing. I also have recently learned just how awesome Alexandre Dumas is! He was a pretty badass dude and a writer of color that is criminally neglected in the book world!
---
What Book(s) Do You Need to Finish by the End of the Year
These are just a few of the many books I have on my TBR for this year. I have so many left on my list for both "Reading Women" and "Book Riot" reading challenges. But I'm looking forward to completing these challenges this year and the many great books I have yet to read!
Thoughts & Thanks
Whew! We did it! Another tag done and this one was so fun! I love looking back at the books I've read and taking a look at books I'm looking forward to reading. This type of tag is one of my favorites and I can't wait to see others that pop up over the next month or so!
Though I like participating in tags, I'm bad at tagging people. My favorite thing is just to say, if you've read this post and like it, please consider yourself tagged! And please link back to me so I can check out your post! I'd love to see how you've done in your half a year of reading.
As always, thank you for visiting and happy reading!